Bonjour City Garagistes,
We are to share with you this weekend another of our City Garage classics from the old space in the alley, our 2009 Production of "The Trojan Women: LA/Darfur Dreamscape" by Charles Duncombe. It was a "Critic's Choice" in the LA Times, and a "Go" in the LA Weekly. It was also nominated for Best Adaptation by The LA Weekly Theatre Awards. Here is a little bit about it.
"City Garage turns Euripides's Greek tragedy inside out, creating a vivid collage that travels from LA to Darfur, tackling issues of violence, mass media, the obsession with youth and celebrity, and the hypnosis of pop culture. This iconoclastic new version, both serious, and comic, takes the familiar plot and characters of the fall of Troy and recasts them in a fluid, dreamlike landscape that combines past and present—a restless exploration of the destructive and the creative forces that drive a human history drenched in blood, yet animate a society obsessed with entertaining itself to death. Can men and women ever understand each other? Is it cruelty itself that moves humanity forward? Why are we bent on destroying our planet? Is Britney wearing any underwear? These, and other burning questions are what City Garage poses in this exploration of ancient themes and new dilemmas."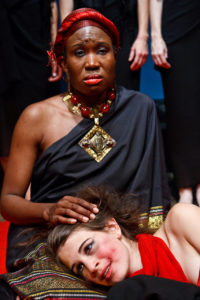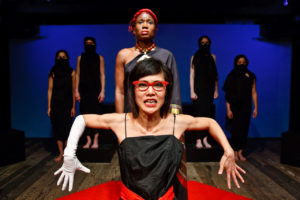 Nudity; strong language.
It will be showing on our YouTube channel from 8:00pm Friday 7.31 through Wednesday, 8.5 at midnight. Here is the link:
As always, it's free but please make a donation on our Chuffed page if you can to help us keep going in this difficult time. (You can also see a collection of great short performances from our company members)
https://chuffed.org/project/citygarage
Merci to our donors of this last week:
Michele and Curt Wittig
KC Wright
Thank you all for watching and for supporting us during this difficult time. It means so much to us.
Merci and stay safe (wear a mask!)
Frederique
Visit the City Garage Virtual Cabaret! New videos daily!
Los Angeles Times
Critic's Choice! 'The Trojan Women' at City Garage
A high level of invention suffuses "The Trojan Women" at City Garage. Deconstructing Euripides' classic tragedy into a multi-farious current-day collage, adaptor-designer Charles Duncombe and director Frederíque Michel pull few punches in the wake of burning Illium.
The geopolitical realities in Duncombe's freewheeling text range from harrowing statistics of recent genocides to sardonic swipes at our blog-infested society. Darfur, Rwanda, Sierra Leone, overpopulation, climate change and more punctuate the same gender positions that have driven this saga since its Peloponnesian War premiere.
Hecuba (June Carryl, magnificently composed) suggests a traditional African queen, clothed at the outset by title mourners whose burkas are but one of costumer Josephine Poinsot's inspirations. Cassandra (Mariko Oka) devolves from culture vulture to a naked, feral creature of website contours. Andromache (the touching Amelia Rose) turns the society trophy wife into a figure of post-millennial pathos, rending against Troy Dunn's quietly insidious Greek envoy.
And when an assured Alisha Nichols turns up as Helen of Troy, here a Britney Spears clone with nude dancing boys and hip attitude, her face-off with Michael Galvin's intense, Billy Connolly-flavored Menelaus crystallizes the enterprise. Dave Mack's empathetic diplomat, Crystal Sershen's understated Hermione and Cynthia Mance's enter- tainment reporter are among the other standouts in a marvelous ensemble effort.
Dividing focus between the keening women and the marauding men, Duncombe gets a slew of modern context in (Euripides is understandably absent from the credits). The approach risks overload, some things unnecessarily explained, and director Michel occasionally struggles to keep the tone consistent. Still, if the aim is to yank "Trojan Women" into our consciousness, this company benchmark, though overstuffed, is a triumph.
– David C. Nichols
L.A. Weekly, November 12, 2009
THE TROJAN WOMEN — In his adaptation of the ancient Greek tragedy (So freely swiped from the original that Euripides' byline doesn't appear on the program), Charles Duncombe takes a macroscopic, brutal and unrelenting look at the end of the world.
Genocide in Rwanda and Sierra Leone, unsustainable population growth and climate change carry the day, and the play, with excursions into a theme that's punctuated Duncombe's earlier adaptations of texts by Sophocles and Heiner Müller: the relationship between gender and power.
Scenes depicting physical mutilation and rape in war zones – choreographed by director Frederique Michel – contain an excruciating authenticity, even in the abstract. Michel undercuts this harrowing tone by incorporating elements of farce in other scenes. One is a gem of understatement and humor: The reunion of fluttery Helen of Troy (Alisha Nichols, attired like a dancer in a strip club, and employing all those powers of manipulation) with the Greek king Menelaus (stoic, furious Michael Galvin) from whom she fled and started this bloody mess (the Trojan War, that is).
This is where the adaptation and direction congeal and captivate. This is still very much a work-in-progress, conceived for all the right reasons. As is, the directorial tones wobble like a top, and the adaptation contains far too much explication. The evening also reveals why theater matters, and how this kind of work wouldn't stand a chance in any other medium. It's too smart and too passionate to dismiss.