Bonjour City Garagistes,
This weekend City Garage is excited to show Neil LaBute's "The Break of Noon" from 2015 as our City Garage Classic. It got great great reviews from the Weekly, Stage Raw, and the LA Times, and George Villas, as Joe, was nominated for Best Performance by Stage Raw. Here is some info from the original press release:
What if God told you to be a better person but the world wouldn't allow it? Such is the dilemma facing Joe Smith, a run-of-the-mill white-collar businessman who survives an office shooting and is subsequently touched by what he believes to be a divine vision. His journey toward personal enlightenment—past greed and lust and the other deadly sins—is, by turns, tense, hilarious, profane, and heartbreaking. Break of Noon explores the narrow path to spiritual fulfillment and how strewn it is with the funny, frantic failings of humankind while, in the process, showcasing Neil LaBute at his discomfiting best.
It will be showing on our City Garage YouTube channel from 8:00pm on Friday through midnight on Wednesday. Please share the link with your friends.
It's free to view but we ask people to make a donation if they can through our Chuffed page:
https://chuffed.org/project/citygarage
Merci, stay safe, and wear a mask!
Love,
Frederique
"There is no playwright on the planet these days who is writing better than Neil LaBute."
— John Lahr, The New Yorker
"The bad boy of American theater….Dangerous and devastatingly funny."
— Jumana Farouky, Time
Nudity, adult situatiions.
Visit the City Garage Virtual Cabaret! New videos daily!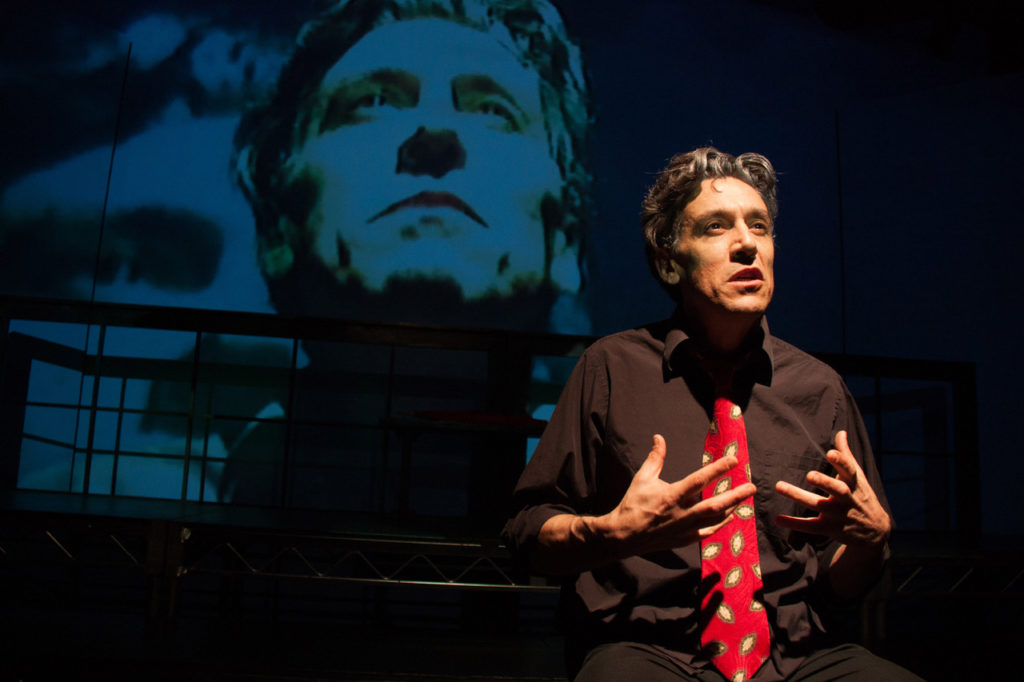 "[A] smart and striking staging, and from the talents of an astute and talented ensemble, with George Villas rendering a terrific performance in the lead role….The [performers] deliver many incisive moments, especially Kristina Drager as the liberated ex-spouse who wants nothing more to do with John and Kat Johnson as his mercenary attorney. Courtney Clonch is also spot on as the smirking TV host who ridicules John on air…In the end, the production turns on Villas' performance. Wild-eyed and weirded out, his storytelling mesmerizes. You're right there with him as he discovers the body of a young assistant by the copy machine, her throat slit, and later, on the edge of your seat as the killer ominously approaches, gun in hand, with John having nowhere to run."
—Deborah Klugman, L.A. Weekly
"Neil LaBute is a playwright who likes to get under your skin. Love him or hate him, he's going to push your buttons, challenge your assumptions. City Garage is tackling his 2011 play The Break of Noon and it's no exception." —Anthony Byrnes, KCRW
In the aftermath of a mass shooting, the sole survivor narrating Neil LaBute's The Break of Noon at City Garage resolves to mend his selfish ways, attributing his escape to divine intervention…Naturally, there's another shoe to drop — it's a LaBute play — and Villas' excellent performance systematically exposes the cracks in Smith's professed redemption. Bad habits reemerge in his serial encounters with a sleazy lawyer (Kat Johnston), his skeptical ex-wife (Kristina Drager), his tacky mistress (Katrina Nelson), a cynical talk show host (Courtney Clonch), a shooting victim's daughter (Nicole Gerth) and a suspicious cop (Alex Pike) whose interrogation gives new meaning to "getting in your face" thanks to inventive video projections by Anthony M. Sannazaro….The ensemble provides impressively detailed characterizations…Director Frédérique Michel and designer Charles A. Duncombe attempt a bit of redemption of their own with a stylish visual deconstruction that amplifies the script's artifice: During the successive encounters, the "on-deck" character perches motionless off to the side."
—Phillip Brandes, L.A. Times