Bonjour Citygaragistes,
We have another City Garage Classic to share with you this week as well as an update on our new talk show, which is coming to our YouTube channel Thursday, October 22nd.
First the CG Classic. This week it will be Moliere's "School For Wives," from 2009, which Charles and I translated. Here is information from the original press release:
"In this world premiere translation of Moliere's comic masterpiece, "The School For Wives," Arnolphe, a rich merchant is under the delusion that he can create a perfect marriage by creating the perfect wife. He raises a young orphan, Agnes, in a convent, determined to keep her ignorant of everything except what he intends to teach her himself. His plans, however, are quickly undone by the handsome young Horace who, despite everything Arnolphe tries, takes Agnes's education into his own hands—particularly in the art of love. Both a sophisticated satire and a delightful comedy of crossed purposes, this play demonstrates to what ludicrous lengths man will go in his attempt to control an uncontrollable universe and what kind of ironic comeuppance is bound to be his reward."
Here is what the critics had to say:
"This new translation-adaptation of Moliere by director Frederique Michel and Charles A. Duncombe is clever, colloquial, and far more actable than most recent versions."
Backstage
"The central character in Moliere's comedy, newly translated by Frederique Michel and Charles Duncombe, could be and often is a punching bag. Not here….The play emerges less as a clown show and more as a wistful, almost elegiac rumination on aging and folly."
LA Weekly, "Go!"
It will be showing on our City Garage YouTube channel from 8:00pm this Friday, October 9, through midnight on Wednesday, October 14th.
It's free to view but we ask people to make a donation if they can through our Chuffed page:
https://chuffed.org/project/citygarage
And more now on our new talk show coming October 22nd.
We're excited to be presenting "Animal Farm: Conversations on Theater and Poltics with Steven Leigh Morris and Guests." It will be an engaging and thought provoking look at current issues and ideas in world politics and how they're reflected in theater. We hope you'll tune in. We'll be announcing our first guest next week. But for now, here is more information about Steven: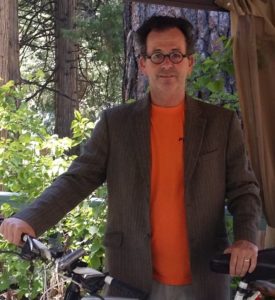 Steven Leigh Morris is an award-winning playwright, novelist and theater critic. His plays have been presented off-Broadway and developed at New York Theatre Workshop. His stage works have also been developed/presented in Southern California at the Mark Taper Forum, City Garage, Playwrights' Arena, Actors' Gang Theatre, and also at international festivals in Scotland and Poland. His first play (about Russian immigrants in the US) Aliens was included in the Mark Taper Forum's first ever New Works Festival, and went on to receive an LA Times' CRITICS CHOICE citation for a production by Pacific Resident Theatre (nee Pacific Theatre Ensemble) in Venice, California. His play about human trafficking (Beachwood Drive) premiered at Playwrights Arena in LA, went on to a four-city tour of Poland, including the Lublin International Theatre Festival. Later, Beachwood Drive was presented off-Broadway by Abingdon Theatre Company. His adaptation of Mikhail Bulgakov's novel, The Master and Margarita (Moskva) premiered at City Garage in Santa Monica. Red Ink, Morris' most recently produced work, Red Ink, about the press, received an extended run in 2019-2020 at Playwrights' Arena in Los Angeles, in a production that was named an LA Times CRITICS CHOICE. His debut  novel, Fowl Play (Padero Press, 2016) — about barnyard poultry, drama criticism, and a neighbor war — was described by American Theatre's editor Rob Weinert-Kendt as an "alchemy of galline gallantry, theater criticism and haunted Russophilia." The novel received First Prize in the 2016 Human Relations Indie Book Awards. Morris chaired the Jury for the 2012 Pulitzer Prize in Drama, and served on that same Jury in 2011. He is the founder of the community-funded performing arts website, "Stage Raw" (stageraw.com), and is the recipient of the inaugural (2018) Gordon Davidson Award for Distinguished Contribution to the LA Theater Community, presented by the Los Angeles Drama Critics' Circle. His criticism/commentary has appeared in The New York Times, The LA Times, American Theatre Magazine, DRAMA Magazine in London, LA STAGE, Back Stage West and the L.A. Weekly, where he was the theater critic for 25 years. He was also the Executive Director of LA STAGE Alliance from 2015-2018.
Have a question or topic you'd like Steven to discuss? Post it here:
We'll be posting a new show every Thursday on our YouTube channel, and previous shows will be available on our home page. We hope you'll watch. Tell your friends!
Merci, stay safe, and wear a mask!
Frederique