Bonjour,
This week we are going to show a production from the old space, "The Colony" by Marivaux. And on "Animal Farm" we have actor French Stewart.
Merci,
Frederique
This weekend, for our City Garage Classic, we're showing an 18th century one-act comedy by the French classical author Marivaux. It's an archive production but quite fun and enjoyable to watch—an 18th century take on gender politics. And on our web series "Animal Farm: Conversations on Theater and Politics with Steven Leigh Morris and Guests," Steven talks with TV and stage actor French Stewart about the challenges facing the LA Theater scene as we all get closer to re-opening. Here is a link to talk show:
https://citygarage.org/animalfarm/
Here is a little about "The Colony"
"Marivaux, considered on the most important of French playwrights of the 18th century is best known for his comedies "The Triumph of Love" and "The Game of Love and Chance." But he also wrote a fascinating one act that seems well before its time, The Colony. In it, a group of women in a Utopian, far-off colony, rebell against the oppression of men. The piece demands our attention as an early depiction of the struggle for women's rights. Marivaux, unlike so many of his contemporaries, did not accept the way women were treated in France at the time, their humiliating education, and their inferior social status. He was in favour of women's equality, gave them lead roles usually reserved to men, and, in The Colony, argues that their frivolity was due to the poor quality of their upbringing rather than nature. "
It will be showing on our City Garage YouTube channel from 8:00pm this Friday, April 30, through noon on Friday, May 7th.
https://www.youtube.com/c/citygaragetheatre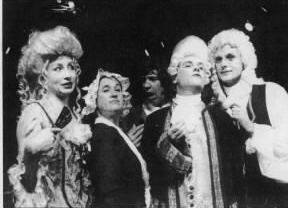 It's free to view but we ask people to make a donation if they can through our Chuffed page or at "Support Us" on our website:
Chuffed
https://chuffed.org/project/citygarage
City Garage website
Merci for all your support. Start safe, wear a mask, and get your shots when you can!
Love, Frederique