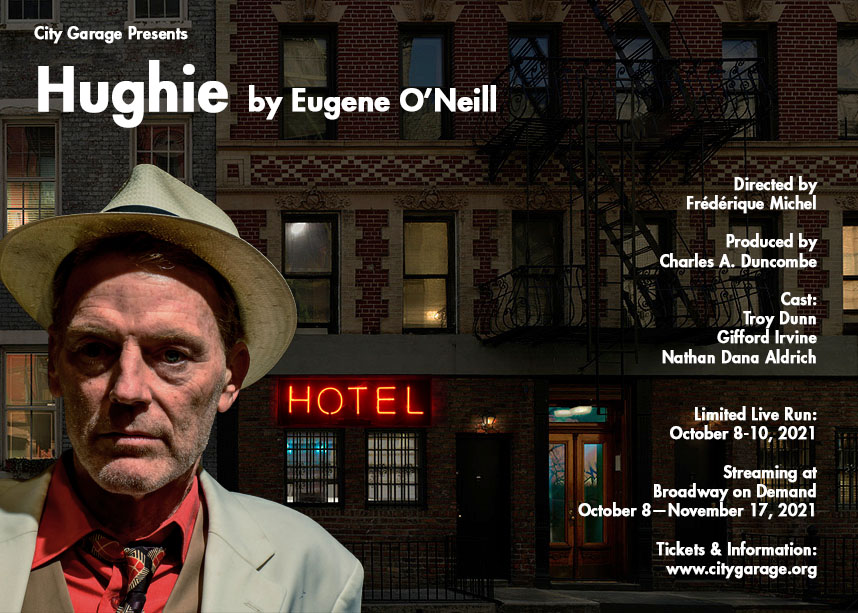 Bonjour Citygaragistes,
The opening of "Hughie," by Eugene O'Neill, last weekend was very exciting. It was so touching to see how happy the audience was to be back inside the theatre. They all raved about the beauty of the play and the phenomenal cast. It was nice to see so many of you in person again. We are hoping that, if the virus cooperates, we can soon return to normal programming with "Endgame" by Beckett.. But in the meantime, "Hughie' will continue its run as a streaming production with our partner Broadway on Demand through November 14th. Even if you saw it live, the cinematic quality of the production is quite stunning, filmed and edited by Anthony Sannazzaro, so you may want to see it again. Tickets are $15 plus a $3.95 handling charge. Here is the link:
If you'd like a little taste of the show, here is a trailer on YouTube.
And of course there is a new episode of our weekly talk show about theater and politics with Steven Leigh Morris, "Animal Farm." This week Steven talks with Alison Whorton, Executive Director of Teen Tix LA about their new outreach program to promote young audiences for LA Theater.
Be a Patreon! Your support means so much and can start as low as just $2 a month! Help keep us going!
Here's the link to our Patreon Page.
Stay safe, get vaccinated, and go to Broadway on Demand to see "Hughie."
Love,
Frederique
(Click on images to enlarge)