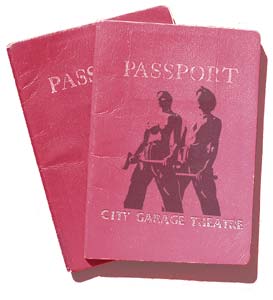 The City Garage Passport: See Four Award-Winning Productions, and Save 25%!
Become a part of the most exciting theater company in Los Angeles! Buy a passport today and receive four discounted admissions to any City Garage productions.
If you're looking for truly alternative theater, City Garage is where you'll find it. Provocative. Political. Outrageous. Out of the mainstream.
City Garage has been consistently recognized as a unique voice in the landscape of LA theater. A place for new plays from the international theatre, challenging contemporary drama, and hard-hitting original pieces that train an unflinching eye on the community of Los Angeles and on the world at large. It's where audiences are inspired to think about the issues that confront a changing society and challenged to question what they find. Nothing is predictable here except the energy and excellence on stage.
Don't miss a show!
With a City Garage passport, it's easy. Buy a passport and receive four discounted admissions to any City Garage productions. Ever! No schedules. No pre-arranged seats or dates. Use it any way you like. Come to four different shows by yourself, come to two with a guest, come to one with three guests. Or buy passports for your friends and come as a group!
It works just like discounted admissions to the movies. You pick the show. You pick the day. It's just that simple. And you'll save 25% over the price of regular admission.
Standard Passports are $90 each; Student/Senior (64+) Passports are $75 each.
To buy a Passport, please send payment and the information requested below to:
City Garage, 2525 Michigan Ave, Building T1, Santa Monica CA 9040
Please include your:
Name
Address
City, State, Zip
Email Address
Number and type of Passport
You can also buy online using PayPal:
Please note: a maximum of two admissions may be used on the same day a Passport is purchased; Passports may not be used on opening night of any performance run.