Animal Farm: Conversations on Theater and Poltics with Steven Leigh Morris and Guests
We're excited to be presenting "Animal Farm: Conversations on Theater and Poltics with Steven Leigh Morris and Guests." It will be an engaging and thought provoking look at current issues and ideas in world politics and how they're reflected in theater. We hope you'll tune in.
Animal Farm, Episode 26: Martha Demson
Animal Farm Episode 25: French Stewart
Animal Farm Episode 24: Thomas Sadoski
Animal Farm Episode 23: John Flynn
Animal Farm Episode 22: Gay Walley
Animal Farm Episode 21: Olga Garay
Animal Farm Episode 20: Jessica Kubzansky
Animal Farm Episode 18: Margaret Gray
Animal Farm Episode 17: Stephen Sachs
Animal Farm Episode 16: Philip Brandes
Animal Farm Episode 15: Joanna Klass
Animal Farm Episode 14: Chay Yew
Animal Farm Episode 13: Anthony Byrnes
Animal Farm Episode 12: Bryan Hawkins
Animal Farm Episode 11: Vanessa Stewart
Animal Farm Episode 10: Playwright Luis Alfaro
Animal Farm Episode 9: Bronwyn Mauldin and Angela Gaspar Milanovic
Animal Farm Episode 8: Michael A. Shepperd
Animal Farm Episode 7: Jeton Neziraj & Roland Schimmelpfennig
Animal Farm Episode 6: Neil LaBute
Animal Farm Episode 5: Anna Smolar and Magda Szpecht
Animal Farm Episode 4: Susan Blundell playwright, Lloyd Morris actor, and Elliot Devivo clarinetist
Episode 3: Animal Farm with Doctor Susana Smith Bautista and Chandra Indigo Jackson / Teen Tix LA
Episode 2: Animal Farm with Rob Weinert-Kendt
Episode 1: Animal Farm with Jon Lawrence Rivera
About Steven Leigh Morris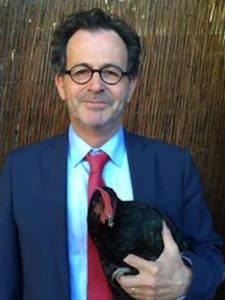 Steven Leigh Morris is an award-winning playwright, novelist and theater critic. His plays have been presented off-Broadway and developed at New York Theatre Workshop. His stage works have also been developed/presented in Southern California at the Mark Taper Forum, City Garage, Playwrights' Arena, Actors' Gang Theatre, and also at international festivals in Scotland and Poland. His first play (about Russian immigrants in the US) Aliens was included in the Mark Taper Forum's first ever New Works Festival, and went on to receive an LA Times' CRITICS CHOICE citation for a production by Pacific Resident Theatre (nee Pacific Theatre Ensemble) in Venice, California. His play about human trafficking (Beachwood Drive) premiered at Playwrights Arena in LA, went on to a four-city tour of Poland, including the Lublin International Theatre Festival. Later, Beachwood Drive was presented off-Broadway by Abingdon Theatre Company. His adaptation of Mikhail Bulgakov's novel, The Master and Margarita (Moskva) premiered at City Garage in Santa Monica. Red Ink, Morris' most recently produced work, Red Ink, about the press, received an extended run in 2019-2020 at Playwrights' Arena in Los Angeles, in a production that was named an LA Times CRITICS CHOICE. His debut  novel, Fowl Play (Padero Press, 2016) — about barnyard poultry, drama criticism, and a neighbor war — was described by American Theatre's editor Rob Weinert-Kendt as an "alchemy of galline gallantry, theater criticism and haunted Russophilia." The novel received First Prize in the 2016 Human Relations Indie Book Awards. Morris chaired the Jury for the 2012 Pulitzer Prize in Drama, and served on that same Jury in 2011. He is the founder of the community-funded performing arts website, "Stage Raw" (stageraw.com), and is the recipient of the inaugural (2018) Gordon Davidson Award for Distinguished Contribution to the LA Theater Community, presented by the Los Angeles Drama Critics' Circle. His criticism/commentary has appeared in The New York Times, The LA Times, American Theatre Magazine, DRAMA Magazine in London, LA STAGE, Back Stage West and the L.A. Weekly, where he was the theater critic for 25 years. He was also the Executive Director of LA STAGE Alliance from 2015-2018.

Have a question or topic you'd like Steven to discuss? Post it here:
We'll be posting a new show every Thursday on our YouTube channel, and previous shows will be available on this page. We hope you'll watch. Tell your friends!