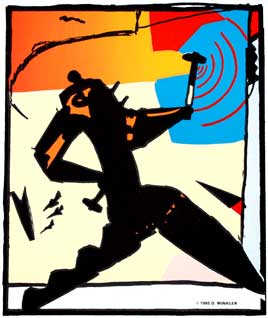 The company at City Garage has been producing innovative, award-winning theater in Santa Monica for more than thirty years. It was founded in 1987 by Artistic Director Frédérique Michel and Executive Director Charles A. Duncombe. It produces new work by both US and European writers that focuses on contemporary ideas and politics, as well as classics re-imagined for today's audience. It is the resident theatre company at Bergamot, the site of an arts-focused redevelopment by the City of Santa Monica.
It began at the Off-Main Street Theatre in Ocean Park, moved to the Santa Monica Pier in 1989 for a two year residency in the landmark Billiard Building and from there, in 1994 to its namesake location in a former police parking garage in the alley behind the Third Street Promenade. It remained there for more than fifteen years before moving to Bergamot in 2010.
City Garage has produced more than a hundred productions over the decades with dozens of awards, countless nominations, and "Critic's Choice" and "Pick of the Week" distinctions. In New York in 2004, the company received an "Otto," a national award for political theatre, honored alongside Robert Wilson, El Teatro Campesino, and Charles L. Mee. In 2009, company founders Frédérique Michel and Charles Duncombe won the LA Weekly's "Queen of the Angels" award for "decades of directing and producing scintillating, politically charged theater that challenges audiences to reconsider their assumptions about the nature of politics and the nature of theater itself." In 2011 the company won the Los Angeles Drama Critics Circle award for Sustained Excellence in Theatre.
The company's work with Fassbinder texts has also been featured in two German documentaries: Fassbinder in Hollywood, and Fassbinder: Love, Life, and Celluloid. Three of its Heiner Müller productions have been discussed in the book Müller in America published in New York in 2003.