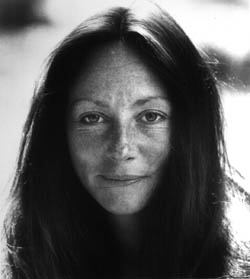 Frédérique Michel, Artistic Director
Frédérique was born in Paris and studied theatre at the Conservatoire. She has led the company as Artistic Director since its founding in 1987.
She received a Dramalogue Award for her direction of Dissident. Her 1998 production of George Sand: An Erotic Odyssey in Seven Tableaux was nominated for four L.A. Weekly Theater Awards, including Best Director. She was nominated again for Best Director for MedeaText: Los Angeles/Despoiled Shore (2000). In 2005 she won the LA Weekly Award for Best Direction (one-act) for La Leçon. Her production of The Battle: ABC was nominated for Best Direction and received the 2006 LA Weekly Award for Best Ensemble. She once again won Best Direction (one-act) for Quartet at the 2008 LA Weekly Theater Awards and was also nominated for her direction of The Bald Soprano.
At the 2009 LA Weekly Theater Awards, she received (along with Charles Duncombe) the "Queen of the Angels Award" for "decades of directing and producing scintillating, politically charged theater that challenges audiences to reconsider their assumptions about the nature of politics and the nature of theater itself." In 2011, City Garage received the Los Angeles Drama Critic's Circle Award for Sustained Excellence in Theater. In 2012 she worked with Neal LaBute on a new, west coast version of Filthy Talk for Troubled Times.
Among her works at City Garage are the world premieres of Charles L. Mee's Orestes 3.0: Inferno, Magda Romanska's Opheliamachine, Charles A. Duncombe's Caged, Stephen Leigh Morris's Moskva, Charles A. Duncombe's Bulgakov/Molière, the LA premiere of When the Rain Stops Falling by Andrew Bovell; Timepiece by Charles Duncombe; The Break of Noon by Neal LaBute, Tartuffe, Hamletmachine: The Arab Spring, Lear, right left with heels, Phoebe Zeitgeist Returns to Earth, Grimly Handsome, Adam & Evie, and ≈[Almost Equal To].