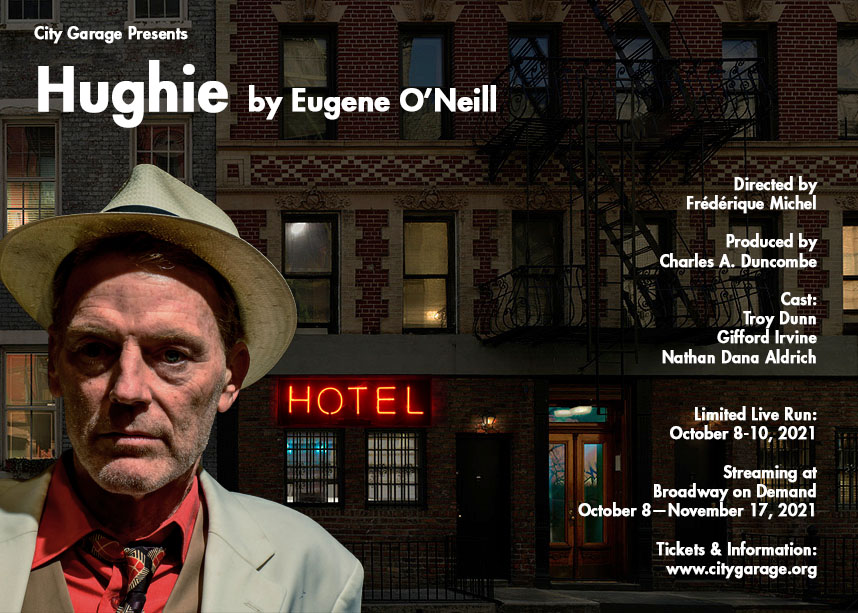 Bonjour Citygaragistes,
It's opening weekend at last at City Garage! Eugene O'Neill's late masterpiece, "Hughie" It's been long time coming and we're so grateful that so many of you have shown us so much support during this extended shutdown. But we finally resume live, in-person performance this weekend and we hope to have many of you with us for these three special, limited-seating performances: Friday and Saturday at 8:00pm, and Sunday at 4:00pm–October 8th, 9th and 10th. Proof of vaccination and masks will be required. There are still some seats available, so if you'd like to attend in person please write to us at citygarage@citygarage.org. Let us know which night you'd like to come, and how many seats. We will send you a confirmation along with a link to Paypal for payment in advance. Tickets are $30.
If you'd like a little taste of the show, here is a trailer on YouTube.
And this weekend we start our new partnership with the nationwide streaming service, Broadway on Demand. "Hughie" opens nationally on the same night as it does here in Santa Monica, Friday, October 8th and it will run through November 14th. Once it opens you can stream it any time you like during those dates. Tickets are $15 and they're available now. Here is the link:
And of course there is a new episode of our weekly talk show about theater and politics with Steven Leigh Morris, "Animal Farm." This week Steven talks to Marc Antonio Pritchett, Co-Artistic Director of Sacred Fools, one of LA's most dynamic theater companies.
Be a Patreon! Your support means so much and can start as low as just $2 a month! Help keep us going!
Here's the link to our Patreon Page.
Stay safe, get vaccinated, and we look forward to seeing you for "Hughie"—either through streaming or at City Garage!
Love,
Frederique
(Click on images to enlarge)