Bonjour Citygaragistes,
We had a wonderful opening weekend of "The Birthday Party" with champagne and cupcakes, and packed houses. Thanks to all who came to celebrate with us! Here's what the critics are saying:
"City Garage has revisited The Birthday Party in a splendid production that captures Pinter's specialty as a playwright: grotesque naturalism wrapped around a core of menace and depravity…. superb acting and directing." — Total Theatre
Top Ten, Recommended!
"The Birthday Party was not intended to be a realistic depiction of everyday life among working class Brits; instead, it was meant to relay awareness of the dark oppressive forces that lie beneath the surface of daily living….Much of the humor and pure entertainment in this production is reflected around Flood's utterly engaging persona, a beacon amidst the baleful shadows and apocalyptic themes…an adept, well-paced production…a tale of authoritarianism run amuck." — Stage Raw
If you haven't yet made you reservations, please do it now. We'd love to see you.
Buy Tickets Now
And merci to our new donors of this last week who have added more candles to our cake:
Geraldine Fuentes
Myron Meisel
David Burton
Bill Moynihan
Boris Tadjikov
Tom Patchett
Anonymous
James Conn
Please join them with your donation of $100 to add another candle/ Can we get one for each of our last 35 years? Here's a link you can follow to add yours to the cake: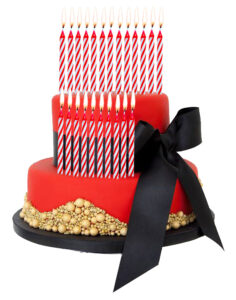 Merci, and see you soon at City Garage!
Love,
Frederique 👠👠
(Click on images to enlarge)
"Voices From Ukraine" – The Worldwide Ukrainian Play Readings Project
To support humanitarian aid for Ukraine, please visit our page, "Voices From Ukraine."