"Department of Dreams" by Jeton Neziraj
Translated by Alexandra Channer
October 25 – December 8, 2019
Fridays, Saturdays 8:00pm: Sundays 3:00pm
Critic's Choice! — Los Angeles Times
The world premiere of Kosovar playwright Jeton Neziraj's nightmarish, Orwellian comedy of an autocratic government that demands its citizens deposit their dreams in a central, bureaucratic depository so that it can exert the fullest possible control of their imaginations. In this vast, underground complex, civil servants like Dan, a new hire for the prized job of Interpreter, sift patiently through the nation's dreams looking for threats to the government's authority and its version of "truth." If order is to be maintained, deviance must be extinguished and imagination co-opted. Dan works hard and tries stubbornly to survive in this strange dream world but finds nothing is as it seems to be except the authority that rules it. Don't miss the world premiere of this new play from one of Europe's most remarkable playwrights.
"Theatre should side with the victims" feature on Jeton Neziraj — Stage | The Guardian
"The premiere represents a coup for City Garage's founders, artistic director Frédérique Michel and producing director Charles A. Duncombe, whose company has been presenting edgy theater for more than 30 years. Michel, who also directs, and Duncombe, whose typically stunning production design is a highlight, do full service to Neziraj's savagely topical, darkly funny piece." — F. Kathleen Foley, Los Angeles Times
Read Stage Raw's interview with Jeton Neziraj: Kosovo's Molière: Mocking Hypocrites and Autocrats
"The cast entire does the fine job I frankly have come to expect from City Garage, with Frederique Michel's direction showing wonderful insight…" — David MacDowell Blue, Night Tinted Glasses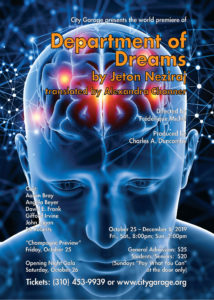 Special Events: Weekend of November 8 – 10th, 2019
City Garage is thrilled to announce that playwright Jeton Neziraj will be traveling from Kosovo to join us for a weekend of special events around this world premiere. Support City Garage and help us meet our goal of $25,000 for this fall by being part of this exciting weekend. Tickets for all events are $50 each. Or pick a performance of your choice, then attend as many of the after-show events as you like—up to all three—for $100. Book your tickets through this link:
Friday, 11/8: Champagne Reception and Book Signing: Meet the author, mingle with cast and crew, and have your script signed (copies of "Department of Dreams" available at $25).
Saturday, 11/9: Catered Reception: Join us for dinner after the show, along with the playwright and other special guests of honor.
Sunday, 11/10: Panel* Discussion: Steven Leigh Morris, editor of Stage Raw, will moderate a discussion on "Theatre and Politics." How can—or should—theatre address the urgent political realities of its moment? The particular focus is on the rise of autocracies in Europe, the Balkans, and the west in general, and the role of the arts in contemporary politics. Q&A with the playwright and panelists to follow.
*Panelists: Steven Leigh Morris, Moderator, Editor Stage Raw; Dr. Mietek Boduszynski, Assistant Professor of Politics at Pomona College; Viktorija Lejko-Lacan, Department of Slavic East-European and Eurasian Languages and Cultures UCLA; Lauren Murphy Yeoman, Assistant Professor of Theatre, USC School of Dramatic Arts.
Limited Seating! Get your tickets now!
(Click on images to enlarge)