Largo Desolato
by Vaclav Havel
January 24 – March 1, 2020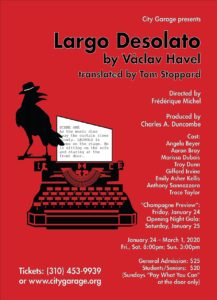 "The Consulate General of the Czech Republic highly recommends the Václav Havel's semi-autobiographical play Largo Desolato… at the City Garage Theatre." —
Invitation posted on Consulate Cultural News & Events page
"An eerie, atmospheric staging at City Garage in Santa Monica revisits Havel's absurdist 1986 portrait of Iron Curtain paranoia…The material is well suited to the stylish City Garage aesthetic, as director Frédérique Michel and designer Charles A. Duncombe lean into Havel's extensive use of repetition to evoke a visceral sense of Leopold's paralysis…. in an authoritarian state, the only thing worse than being a perceived threat is to become irrelevant." — By Philip Brandes, LA Times
"As ever, City Garage surprises and haunts. Every cast member of Largo Desolato is a veteran of the company now, and deliver performances with power as well as precision. The direction continues to use the (seemingly) simple presence of being in the same room with another human being to vast effect. The result feels raw, and terribly honest." — Zahir Blue, Night Tinted Glasses
City Garage stages a timely revival of Havel's classic piece about totalitarian regimes, censorship, and the price of integrity. In this semi-autobiographical play, translated by Czech-born playwright Tom Stoppard, a dissident intellectual, Leopold Nettles, is dogged by the secret police, pressured by his friends, and nagged by his housemate to just shut up and go along. Shadowy figures arrive to offer him a deal to stay out of prison but Nettles can't get himself to accept. His world starts to dissolve in a hallucinatory battle of conscience but will he ultimately have the courage of his convictions?
Havel wrote the play when he had just emerged from prison in 1984. He went on to play a major role in the Velvet Revolution that toppled communism in Eastern Europe, as well as serving as the first President of the Czech Republic. What would he make of the frightening resurgence of so many of the ideas he sacrificed so much to eradicate?
Fourth Sunday Q&A
After the Sunday, February 16 matinee, please join us for an informal discussion with the director, producer, and cast of Largo Desolato.
(Click on images to enlarge)
This project is supported by the California Arts Council; LA County Supervisors through the LA County Arts Commission; the City of Santa Monica and the Santa Monica Arts Commission