Bonjour,
Only two weeks left for our production of Andriy Bondarenko's play "Ghost Land." We had a nice Q&A with the cast and audience on Sunday: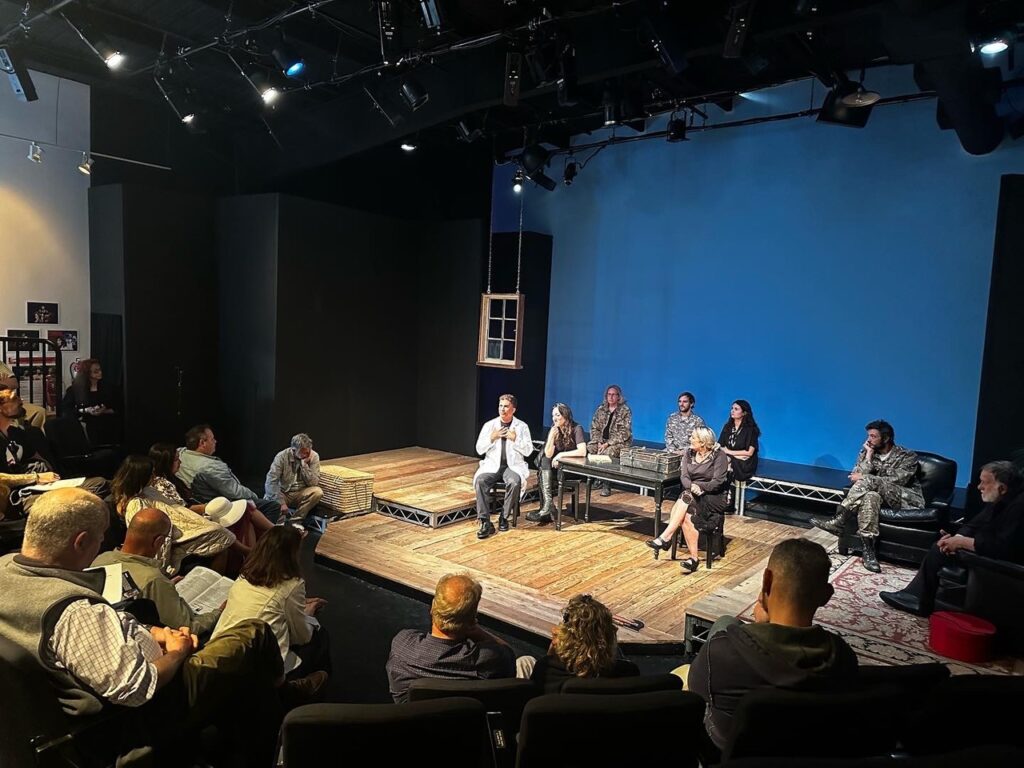 If you haven't yet seen it, don't miss your chance to be part of this critically-acclaimed world premiere event.
Stage Raw – Recommended! Top 10!
"Ukrainian playwright Andriy Bondarenko brings the horrors inflicted on his compatriots by Russia's invasion to surrealistic life… Director Fréderique Michel effectively complements Bondarenko's dreamlike work with live video that provide full-face depictions of the characters, as well as recorded images (video designed by Sannazzaro). Other creative staging choices, such as soldiers carting off wooden crates as if they were their own coffins and Charles Duncombe's moody lightning — along with sturdy performances from the ensemble —– heighten the stark nature of Bondarenko's opus.
— Martίn Hernández, Stage Raw
"When the final revelation comes, it hits like thunderclap…. the full context of all we've experienced since the lights came up at the start becomes clear. I was shaken. Among other things, the play ceased to be about just what is happening in Ukraine or even about the hell of modern war. It became about me, and you, and everyone who has ever had to endure the trauma of real evil. Of those moments when the worst of us turn this earth into a real Hell. More, how do we heal after that?"
— David MacDowell Blue, The World Through Night-Tinted Glasses
"The reality of Bondarenko's ghost land is vividly brought to life in Frederique Michel's staging….haunting images…top notch, effectively setting the mood."
— Rob Stevens, Haines His Way
Our Fall Fundraising Campaign – Help us get to $30,000!
Please consider making a donation, if you can, toward our fall fundraising campaign. We have new grants to match: from the City for Santa Monica, from the County of Los Angeles, and from the State of California. You, the audience, is what makes the work possible at City Garage and helps us to continue. Thanks to the following donors we've raised $4650 so far:
Curt and Michele Wittig
Roger Marheine
Anonymous
Nina Kamberos
Tom Patchett
Lindsie Carlsen
Geraldine Fuentes
Help us get to $30,000 by the end of the year. Follow this link to a make a donation:
Support for Ukraine
And throughout this run, we are also urging people to support humanitarian aid to Ukraine, particularly the "Voices of Children" project. For more information, follow his link:
Invertigo Dance
Our friends at Invertigo Dance have an interesting project coming up at the Broad Stage which we wanted to share:
Formulae & Fairy Tales; October 13 + 14 at 7:30pmInvertigo Dance Theatre is bringing back its inventive and inspiring dance theatre performance Formulae & Fairy Tales for two nights only at The Broad Stage in Santa Monica.
Join us for a reimagining of Alan Turing's queer identity, persecution, and technological discoveries during #LGBTQHistoryMonth This exploration of humankind's nuanced relationship with technology is a "wonderful, beautiful, and often heart-wrenching work of art" (Dance Chronicle).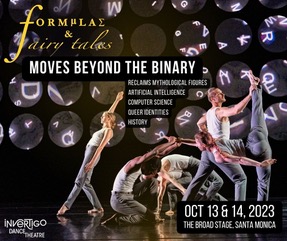 Formulae & Fairy Tales
October 13 & 14, 2023 at 7:30pm
The Broad Stage, Santa Monica
https://www.invertigodance.org/on-tour/
Merci, and I look forward to seeing you this weekend at City Garage!
Love,
Frederique 👠👠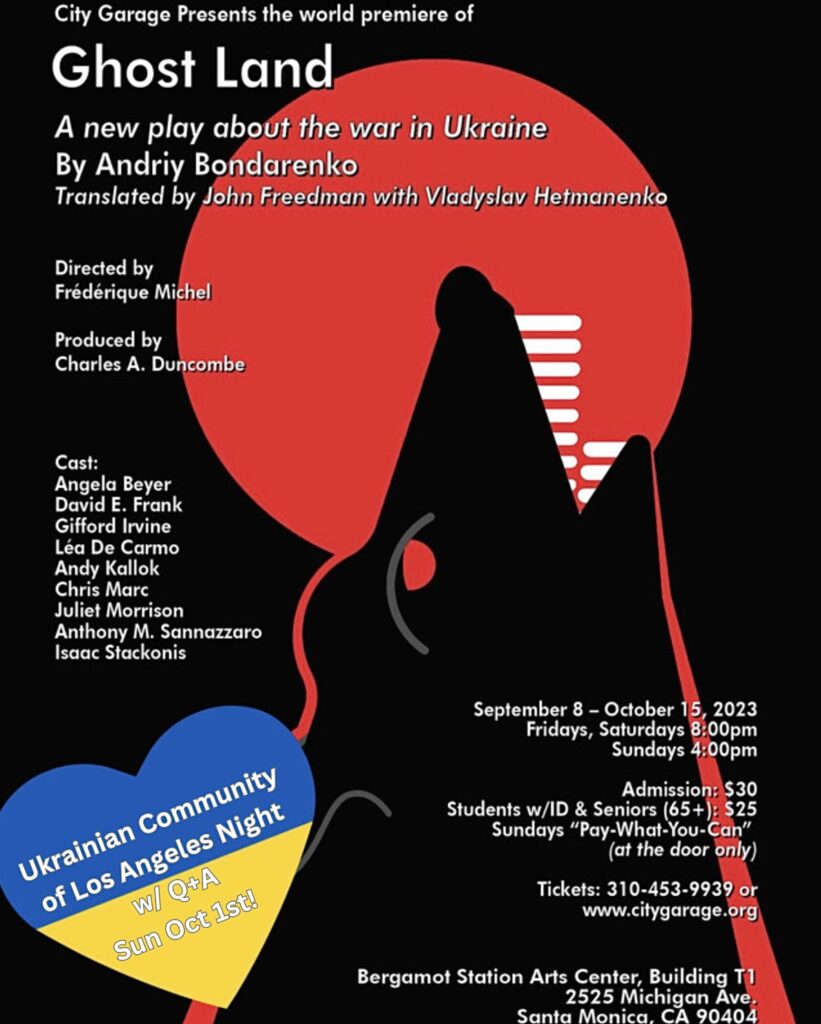 (Click on images to enlarge)