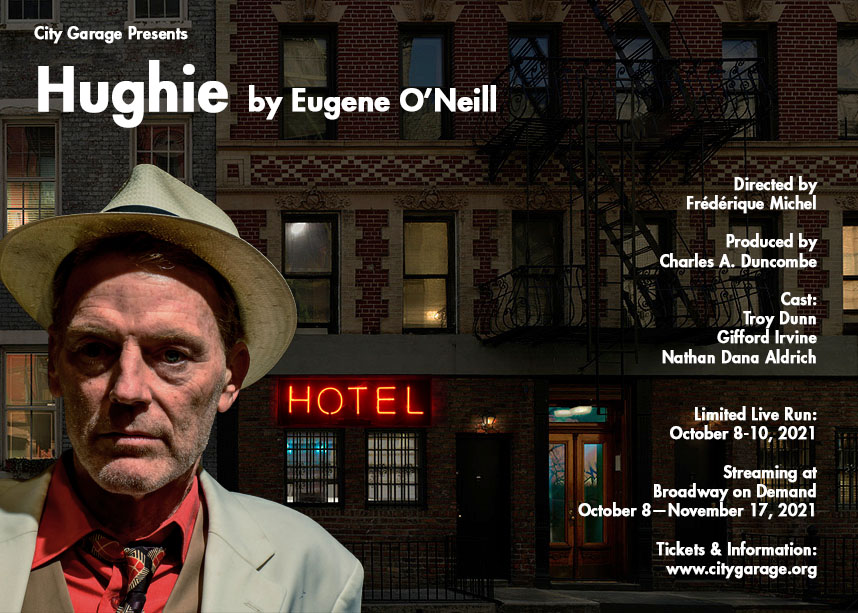 Bonjour Citygaragistes,
It's opening weekend at last at City Garage! Eugene O'Neill's late masterpiece, "Hughie" It's been long time coming and we're so grateful that so many of you have shown us so much support during this extended shutdown. But we finally resume live, in-person performance this weekend and we hope to have many of you with us for these three special, limited-seating performances: Friday and Saturday at 8:00pm, and Sunday at 4:00pm–October 8th, 9th and 10th. Proof of vaccination and masks will be required. There are still some seats available, so if you'd like to attend in person please write to us at citygarage@citygarage.org. Let us know which night you'd like to come, and how many seats. We will send you a confirmation along with a link to Paypal for payment in advance. Tickets are $30.
If you'd like a little taste of the show, here is a trailer on YouTube.
And this weekend we start our new partnership with the nationwide streaming service, Broadway on Demand. "Hughie" opens nationally on the same night as it does here in Santa Monica, Friday, October 8th and it will run through November 14th. Once it opens you can stream it any time you like during those dates. Tickets are $15 and they're available now. Here is the link:
And of course there is a new episode of our weekly talk show about theater and politics with Steven Leigh Morris, "Animal Farm." This week Steven talks to Marc Antonio Pritchett, Co-Artistic Director of Sacred Fools, one of LA's most dynamic theater companies.
Be a Patreon! Your support means so much and can start as low as just $2 a month! Help keep us going!
Here's the link to our Patreon Page.
Stay safe, get vaccinated, and we look forward to seeing you for "Hughie"—either through streaming or at City Garage!
Love,
Frederique
(Click on images to enlarge)
(Click on images to enlarge)
"Exit the King" by Eugène Ionesco
Translated by Frederique Michel &
Charles Duncombe
Champagne Preview May 31
Opening Saturday June 1
A deluded king. A failing kingdom. Two squabbling queens vying for his attention. An obsequious doctor. A dim-witted but loyal guard and a mouthy servant.
In Eugene Ionesco's darkly comic masterpiece we witness the final hours of megalomaniac King Berenger the First. His monstrous ego has kept him alive for four centuries, but now, Queen Marguerite calmly informs him, the time has come to die. Berenger fights tooth and nail. He rages, pleads, denies, bargains, supported by the lovely and loyal Queen Marie. But Queen Marguerite, coolly efficient, aided by her henchman, the doctor, draws the king relentlessly closer to his final moment on earth.
At once broadly comic and deeply unsettling, the play alternates between Monty Python-style slapstick and haunting echoes of Shakespearean tragedy. In this, the most Beckett-like of all Ionesco's work, we follow an existential journey into the most terrifying landscape of all: our own mortality.
In a new translation by City Garage founders Frederique Michel and Charles Duncombe.
"Why this? A once powerful, now collapsing civilization in the grip of a deranged megalomaniac? Obviously, it's a scenario so implausible today, so far beyond the imaginative capacity of contemporary American audiences that we must treat it as a historical curiosity rather than, say, an urgent and eerily relevant warning." — Read Margaret Gray's "essential" listing in the Los Angeles Times
"Such a wild emotional roller coaster works, even amid the absurd details … because the cast under the direction of Frederique Michel breathes vivid life into what might easily have come across as utter chaos. Every detail makes sense." — Read Zahir Blue's full review at Night Tinted Glasses
"City Garage impressively pulls off a metaphysical play without any special effects other than Michel's staging. Her direction is simple yet stylized, with a sprinkling of heightened movement and gesture. And while Exit the King's technical design is minimal throughout the show, its final image is arresting and haunting thanks to Duncombe's lighting." — Read Taylor Kass's full review at Stage Raw
"The final scene between the resonant Dunn and cool, elegant, swan-necked Natasha St. Clair Johnson … is one of those theatrical moments that … leave[s] audiences holding their collective breath before a well-deserved exhale and wild applause." — Read Ravi Narasimhan's full review at Backscatter.
"Their new translation (and adaptation) is crisp and colloquial, easy on the ear. And they have mounted the play in equally vibrant fashion… As performed with heart-breaking power by Troy Dunn, The King is vain, confused, self-centered, yet all too human and likable…" —Will Manus's full review atTotal Theater
(Click on images to enlarge)
November 10 – December 17, 2017
World premiere by the author of the international bestseller "The Glass Books of the Dream Eaters."
Irene awakes from a cryogenic chamber into a future where her terminal cancer has been cured but the world as she knew it no longer exists. She is welcomed by curious humans who command and are commanded by "Platform," a vast computer network which appears to have replaced all known reality. Has the Singularity occurred? Is there still a recognizable planet where earth once was? In Wake Dahlquist examines society and sociability when lives are long, wants are met, and no need for cooperation beyond the response to solitude.


Reality Bites — If You Can Even Call It Reality — In This Post-Apocalyptic Sci-Fi Satire
Bill Raden | November 20, 2017 | 8:05am
Accorrding to the dictionary, "wake" can mean different things: It can be the vigil held over a corpse on the eve of burial; it can describe the waves trailing a passing ship or left by an extinct civilization; or it can signify the state of being aroused or made aware. According to Wake, Gordon Dahlquist's rousing sci-fi satire about the ultimate fate of humankind, currently getting a sleek world premiere at City Garage, it also can mordantly embrace all of the above.
The time-leaping tale begins with a venerable science fiction premise: Heroine Irene Suarez (Natasha St. Clair-Johnson), a New York immunologist racked with metastasized pancreatic cancer in 2017, is placed in a cryogenic capsule in Mamaroneck, New York, to be thawed and resuscitated in a hermetic and inconceivably remote future.
In production designer Charles Duncombe's minimalist arrangement of tiers and ramps, that future is represented as a blandly featureless room without windows or doors. It's where Irene is greeted by May (Alicia Rose Ivanhoe), a friendly and curious if somewhat linguistically maladroit denizen whose silvery Lycra bodysuit (courtesy of costumer Josephine Poinsot), together with the ever-present visage of an identically coiffed and clothed figure (Megan Kim) projected on the upstage wall, are the first hints that something Orwellian and technologically dystopian might have transpired during Irene's eons of sleep.
Much of the fun comes from Irene's attempt to reconstruct the lost years. While May proves maddeningly vague at filling in the whens, wheres and hows, the fragmented hints at the planet's fate that begin to emerge only increase Irene's disquiet over her dire predicament. It seems that the Holocene is part of a distant and dimly understood past, whose end came via some sort of climate change–triggered environmental cataclysm. In the desperate hope that one day the species could be reconstituted from its archived DNA, a survivor population designed a global computerized omniscience called the Platform. Embodied by City Garage regular Kim as an affable and accommodating "construct" of the same name, the Platform now regulates the "sentient environment" as well as the society by which Irene finds herself welcomed as a sort of living natural history museum exhibit.
By eliminating the human middleman, society is finally one with the spectacle.
If that all sounds vaguely Matrix-like, the similarity is strictly ironic. Wake trades in — and frustrates — a raft of familiar sci-fi clichés and genre expectations in a wry pastiche that sets the stage for what Polish sci-fi master Stanislaw Lem once called "the drama of cognizance." By dropping Irene into the Platform, where she is stripped of the taken-for-granted assumptions that ground identity and differentiate the real from the merely represented, Dahlquist lampoons the collective solipsism of all institutionalized systems of belief while underscoring the philosophical problem of agreement on any kind of shared reality.
Irene does not connect with other remnants of humanity in order, say, to organize a revolt and take back the planet from authoritarian oppressors, a trope dating back to H.G. Wells' The Sleeper Awakes (1910), the grandaddy of Matrix-like political fantasies. Instead Dahlquist closes off that possibility by eliminating not only the distinction between the real and the virtual but also the urgent need to distinguish it. The Platform proves the most hospitable and accommodating of hosts. Far from a prison, its environment is a constantly morphing place of endless choice and instantaneous gratification — a kind of otherworldly shopping mall from which everything unpleasant has been expelled except for loneliness. Its virtually generated inhabitants, like May and her daft friend Sen (Jeffrey Gardner), are left to contentedly while away their existence with trivial preoccupations around satisfying their every whim and appetite. By eliminating the human middleman, society is finally one with the spectacle.
The only exception proves to be Sarah (Sandy Mansson), another cryogenic survivor from Earth's 21st-century past — or, more accurately, the Platform-generated memory of what 40 years ago had been Sarah. A middle-aged horse breeder from Pennsylvania, Sarah tells Irene about the 60 additional years she lived among the Platform before boredom finally drove her from its protected, Platonic environs and into the nonexistence of the outside world. What happened then, or what kind of creatures might live there, the Platform cannot say, although Duncombe's evocative projections of pristine, primordial landscapes slyly suggest an Earth that has returned to the fecund grandeur of a pre-human natural state.
Director Frédérique Michel's tightly composed staging cannily extends the script's mechanistic absurdities, both through wittily synchronized movement between Kim and the constructs and with touches like returning "offstage" characters to visible seats in the wings, where they await their next scenes like powered-down cyborgs set to sleep mode. Ivanhoe and Gardner are delightfully deranged as bubbly, wide-eyed human simulacra, but Ivanhoe is especially funny massacring Dahlquist's fractured, almost aphasic diction. For her part, St. Clair-Johnson nimbly anchors the comedy as an exasperated, disoriented and finally resigned "straight man," while Mansson contributes poignant notes of human warmth.
Although the ensemble is clearly still fine-tuning its timing, and Wake is consequently guilty of what sometimes feel like overly austere intellectual stretches, the evening's momentum rarely flags. More importantly, at a moment when headlines seem to trumpet the potential calamities of debasing public policy with alternative facts, the play comes as a timely reminder that the confrontation with the other is ultimately always a confrontation with the self.
City Garage at Bergamot Station Arts Center, 2525 Michigan Ave., Bldg. T1, Santa Monica. (310) 453-9939, citygarage.org.
Bill Raden is an award-winning reporter and theater critic who reviewed his first play for L.A. Weekly on a typewriter. He still keeps his manual Olivetti inked and oiled, just in case.
Wake Review from Night-Tinted Glasses
Spoilers ahoy!
Audience expectations tend to be tricky things. To some degree this depends upon genre.
Wake by Gordon Dahlquist, if not science fiction, certainly begins and explores a pretty clear and well precedented science fiction trope. Someone wakes from cryogenic sleep far into the future and must adjust. Buck Rogers essentially.
Except, no.
Irene (Natasha St. Clair-Johnson) had advanced pancreatic cancer and used her resources on a wild chance, that someone frozen in liquid nitrogen just might be revived in later centuries. When she wakes in a strange room to the greetings of May (Alicia Rose Ivanhoe), a cheerful young woman with a strange vocabulary, the truth dawns on her pretty quickly. It worked. Behold the future!
Yay?
At this point many a science fiction tale would begin describing the future world, if in fact the story turns out to be some kind of social commentary on the trends of human society. Or it may become some kind of adventure in which the awakened person will prove crucial to history or some such (this was the story of the second JJ Abrams Star Trek movie). I never thought the latter very likely here, but wondered how the first part of that expectation might play out. That at first May seems reluctant to tell Irene much heightened that expectation. At first. But increasingly, as we get to know more about this future, the less terribly important that became. Details all proved important, but not what the story was about.
Irene began and remained the story's focus, for every moment, and she remained the only character on stage the entire play. All seventy minutes with no intermission. Even as we meet the sentient computer (or something like that) called The Platform (Megan Kim) that both runs and enables, nurtures and learns from the lives of those like May and her would be boyfriend Sen (Jeffrey Gardner), the more we share Irene's curiosity and frustration. When is this? How much time has passed? Hints given early prove disturbing. Her capsule? Found in sea water. People have very odd beliefs about her own time, not least the amount of violence. No one, not even The Platform, knows what she's talking about when Irene mentions ancient Egypt or the Pyramids.
Her world is gone. Her context has vanished, evaporated over time. Hardly anyone else was ever found frozen and with enough left to be revived. That was Sarah (Sandy Mansson) who died decades ago.
With us, Irene endures this loss — the realization of being utterly alone, not physically nor literally, but robbed of every single detail that made life make sense. Not by anyone, just by chance. This then proves the exploration, the odyssey of this work — not a revelation of plot or world-building, but of human courage in the face of tremendous loss. All in all, Wake does an astounding almost Haiku-esque job of giving us the heart, the soul of the story and very nearly nothing else.
We see someone find courage to go on. To trust the supremely unfamiliar. To begin to let go of what after all can never come again — the past.
Wake runs Fridays and Saturdays at 8pm, Sundays at 3pm (pay-what-you-can at the door only) until Sunday, December 17, 2017 at the City Garage, Building T1, Bergamont Station, 2525 Michigan Avenue, Santa Monica CA 90404.
(Click on images to enlarge)
Directed by Frédérique Michel
Produced by Charles A. Duncombe
Cast: Andrew Loviska, Lindsay Plake, Anthony M. Sannazzaro
A pair of Christmas tree salesmen secretly wreak havoc in NYC. A pair of detectives are bent on catching a serial killer. A young woman finds herself drawn into a cat-and-mouse game and transformed in ways she could never have imagined. Well, maybe she could've. Meanwhile, wild animals have been sighted in the vacant lot across the street. Are they dogs? Raccoons? Or something more ferocious?
In Julia Jarcho's Obie Award-winning poetic, often very funny drama, reality is fluid and facts are elusive. Perpetrators become victims, police detectives become suspects, and nature becomes an id-like witness to the treacherous life of the city. Don't miss the West Coast premiere of one of America's most imaginative and powerful new theatrical voices.
This project is supported, in part, by the Los Angeles County Supervisors through the Los Angeles County Arts Commission and the Santa Monica Arts Commission.
(Click on images to enlarge)
September 30—November 13, 2016
Directed by Frédérique Michel
Produced by Charles A. Duncombe
Cast: David E. Frank, Jeffrey Gardner, Kat Johnston, Megan Kim, Johnny Langan, Andrew Loviska, Lindsay Plake, Kate Rappoport, Bo Roberts, Anthony Sannazzaro, Zack Sayenko, Trace Taylor, Mardaweh Tompo
A new play inspired by Rainer Werner Fassbinder's Blood on the Cat's Neck
In 1974 Rainer Werner Fassbinder imagined a beautiful space alien on a mission to create a first-hand report on mankind. She landed in Nuremburg. Things didn't go well. Now, in 2016, the alien research team has decided to try again, this time with an artificial intelligence in the same shapely guise. Like the Phoebe of the 1970s, she can learn the words people say but not what they mean. Unfortunately, this time she lands in the United States. In an election year. This world premiere is a black-comic look at contemporary society and the wild irrationality of how we see ourselves. Ready for our interplanetary close-up? We report, you decide.
Nudity.

Fourth Weekend Q&A October 23:
After the 3:00pm performance on Sunday, October 23rd, please join us for an informal discussion with the cast and crew. Don't miss it!
This project is supported, in part, by the Los Angeles County Supervisors through the Los Angeles County Arts Commission and the Santa Monica Arts Commission.
(Click on images to enlarge)
"Othello/Desdemona" by Charles A. Duncombe
April 15—May 29, 2016
Directed by Frédérique Michel
Produced by Charles A. Duncombe
Cast: R.J. Jones, Kenzie Kilroy, Andrew Loviska, Bo Roberts, Anthony M. Sannazzaro
Othello, in the midst of an identity crisis, examines and rejects his status as a servant of the Venetian State. Hungry for political power, he experiments with the idea of self-identifying as white. Desdemona, a Lolita trapped in a caged bed, is a spoiled brat with a mind of her own and a hunger for fame. She's still deeply in lust for the lover she's lost, while he struggles with racism and white privilege. Egged on by Iago, hovering like a punk-rock bird of prey, and a sassy, transgender Emilia, this is a love story that, just as in Shakespeare, is going to end badly.
Nudity.
LA TIMES REVIEW:
Playwright, producer and production designer Charles A. Duncombe doesn't so much deconstruct the tragedy of a noble Moor undone by manipulated jealousy as turn its interior workings into an irreverent dissertation on the post-millennial landscape… With director Frédérique Michel and her valiant cast maintaining a jagged emotional pull beneath the High Performance austerity, "Othello/Desdemona" isn't exactly shy about upending expectations… It's a starkly elegant, international-festival-ready staging, with costumer Josephine Poinsot assisting Duncombe's trademark red-black-and-white scheme. Throughout, typical City Garage audacity is detectable…  "Othello/Desdemona" is undeniably unlike anything else in town.
Read the full LA Times review here!
STAGE RAW REVIEW:
"Somewhat reminiscent of Stoppard's Rosencrantz and Guildenstern Are Dead… Director Frederique Michel's artful staging cleverly takes the familiar characters and pushes them in unusual directions…  The production is full of interesting images and psychological underpinnings… [and] possesses a playfulness that's undeniably appealing…  Michel's trenchant sense of irony — and the intelligence of the underlying thoughts in the piece – keep us intrigued."
Read the full Stage Raw review here!
Available now on Amazon or at the theater!
This project is supported, in part, by the Los Angeles County Supervisors through the Los Angeles County Arts Commission and the Santa Monica Arts Commission.

(Click on images to enlarge)
"Lee is one of the most vital, rewarding playwrights to arrive on the scene in the past decade."—Time Out New York
"Lee uses King Lear and some beautifully unconventional additions to flesh out Shakespeare's themes of loneliness, mortality, and filial responsibility in gratifying and moving depth." —Variety
February 5—March 13, 2016
Directed by Frédérique Michel
Produced by Charles A. Duncombe
Cast: Kristina Drager, Kat Johnston, Andrew Loviska, Anthony Sannazaro, Nili Rain Segal
The West Coast premiere of this widely-acclaimed recent text. In Lear, experimental playwright Young Jean Lee's self-described "inaccurate distortion" of the classic, she banishes the title monarch and most of the other male characters to the wings and focuses instead on the younger generation: Lear's three daughters and Gloucester's two sons. The absurdist, meta results are irreverent, grotesque, and morally harrowing.
Fifth Sunday Q&A March 6 [PLEASE NOTE DATE CHANGE]:
After the Sunday, March 6 (not Feb. 28, as previously announced) matinee, please join us for an informal discussion with the cast and creative staff of City Garage's production of Young Jean Lee's Lear.
LOS ANGELES TIMES REVIEW
In the Los Angeles Times David C. Nichols praised Young Jean Lee's Lear at City Garage:
"Director Frédérique Michel treats the intermissionless proceedings as a hybrid of Renaissance masque, absurdist romp and college counseling session, and her fine-tuned cast follows suit. Posing and pouncing around producer Charles A. Duncombe's elemental sets and lighting in Josephine Poinsot's winking costumes, the group sustains itself through to the post-Pirandello climax, which breaks both tone and third wall.  Devotees of its author and this cutting-edge company should flock."
Read the full LA Times review here!
This project is supported, in part, by the Los Angeles County Supervisors through the Los Angeles County Arts Commission and the Santa Monica Arts Commission.